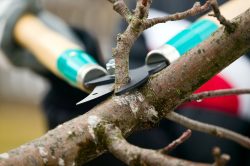 Tending to your trees through tree pruning services and regular trimming is the best way to keep them growing strong and full in Watertown, MA, while also protecting your surrounding property and utility lines. The tree trimmers at BBD Tree Service are here to offer you comprehensive pruning and trimming, no matter the size of your tree.
Tree pruning
To help your tree thrive and grow healthfully, tree pruning services are critically important. This process involves cutting dead, decaying or burdening branches from a tree and trimming back offshoots, to assist the tree in providing nutrients to flourishing branches. We can even do full tree removal if the plant is too far gone.
Hiring a tree pruning service in Watertown, MA is the best way to ensure your tree has a sound foundation in health. A professional will be able to pinpoint branches that are doing more harm to the tree than good, and appropriately remove them to benefit the tree itself. The experts at BBD Tree Service can also help make sure your trees are sustainably growing, by keeping their main branches healthy and promoting the right growth areas.

Contact Us
Tree trimming service
Need a tree trimming service in Watertown, Newton, Middlesex County, or Cambridge, MA to help you manage your untamed trees? When it comes to cutting back overgrowth, shaping branches, clearing overhang and other trimming necessities, BBD Tree Service is ready to assist you.
Our tree trimming capabilities are second to none and completely inclusive of your tree's needs. Whether you've got a budding tree that needs to be shaped as it grows or you're dealing with a long-overdue, largely-overgrown tree, our tree maintenance experts are ready to tackle the job, big or small.
Let us trim your trees
Don't let your trees become dangerously overgrown or a detriment to their own health. Let the tree trimmers at BBD Tree Service assist you with pruning to help promote healthy growth and positive foliage. We're on hand for seasonal services and as-needed—just contact us today by calling 781-589-9902 for more information about our trimming and other services.